Practical one-way technology
Handy. Safe. Reliable. Concealed in a uniform pocket or in a holster – the high-quality disposable device RSG-6 Allround. Select the agent: OC or PAVA. The content lasts for up to 16 sprays of 0.5 seconds each. With one movement, your RSG-6 is ready for triggering an accurate, ballistic liquid jet.
Equipped with a high-quality flip-top safety mechanism
The pepper spray is equipped with a high-quality flip top safety-mechanism, which prevents accidental triggering of the spray: thanks to its intelligent spring-supported folding lid, the spray head is protected against accidental activation. When pressing the release button, slide the lid up with your thumb. The lid then automatically flips down again. Additionally, the special-shape protects the user from accidental self-contamination.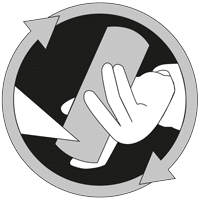 Spraying in every position.
Thanks to this special technology, you can spray 360° in every position with this device – even overhead.
Training
For training sessions there is an Inert version available. The different coloured spray heads and containers easily rule out the danger of a mix-up.
Certified according to the German technical directive (TR)
for irritant spray devices (RSG)